Asked about influences, Sas replies; when I hear Jeff Beck play it starts to itch. He plays with such simplicity and at the same time with such fanaticism. Unbelieveable. I am a real Jimi Hendrix fan too. He has not yet been surpassed. Stevie Ray Vaughan I think is fantastic, but the difference between him and Jimi is that if you were to hear him every night you will notice there are only minor differences in his playing. Whilst Jimi could be stumbling over his strings one night and the next night be so brilliant that you would seriously consider selling all your gear. Jimi knew no boundaries. When he was doing Hey Joe, his mind was already busy with totally different things. What he wanted to do with Miles Davis I think is fascinating. I am a real Miles Davis fan. He is the Jimi of the Jazz world. When I was just 16 I saw Buddy Guy. He played with great dynamics. Dynamics, in my opinion, are one of the most important tools in music; a quiet song with a strong bridge or a loud song with a very quiet bridge. And of course Rory Gallagher, my greatest hero. I had the privilege and honour of playing with his band 3 times. The Allman Brothers Band is fantastic too. Once they get started, there is no stopping them. Just like us.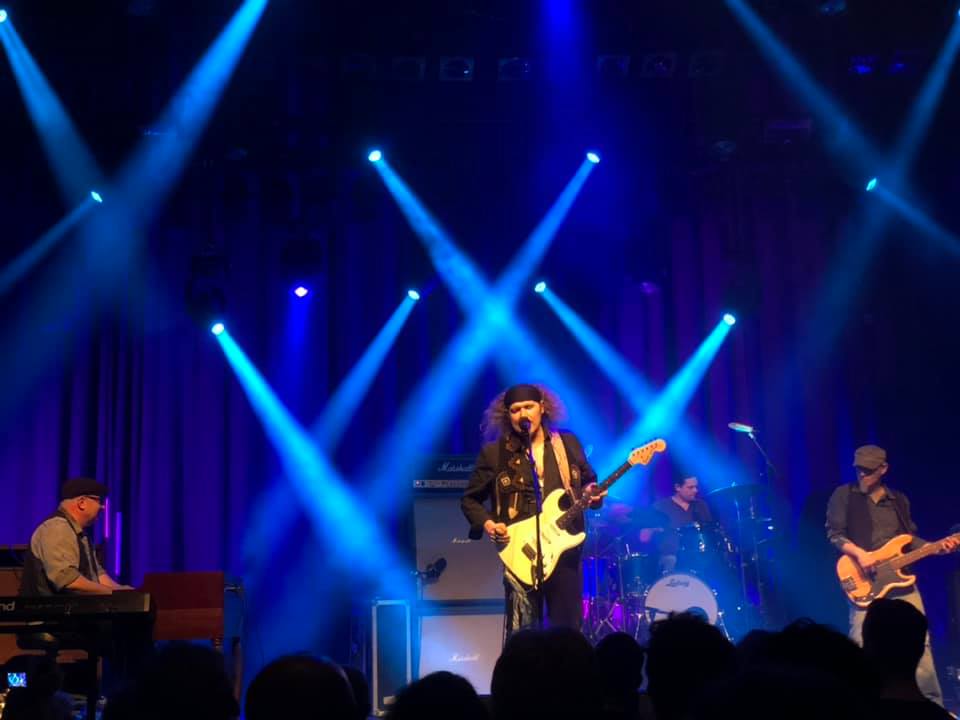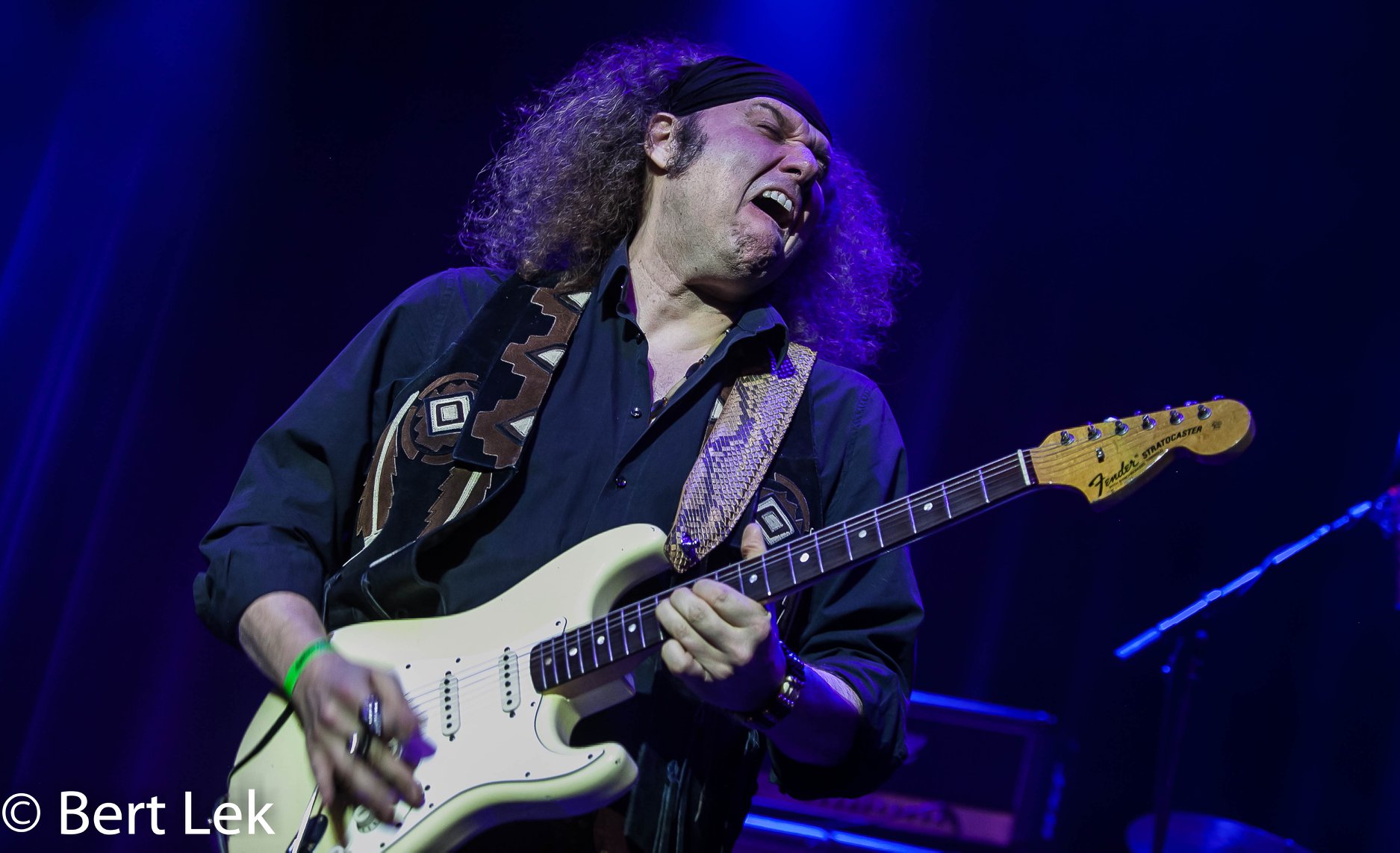 2x Marshall JCM 900 Head
2x Marshall 1960 B Cabinet
2x Marshall 1960 TV Cabinet
Marshall JTM 45
Marshall 1959 SLP

Julian Sas Voodoo Signature Pedal
Tubescreamer TS 808
Mad Professor No 1
Mad Professor BlueBird overdrive
Carl Martin Headroom
MXR phase 90
VOX wha
TC Electronic PolyTune
Fender guitars
Gibson guitars
Martin Guitars
National Guitars
Patrick Koopman guitars
Planet Tone Pick-ups
D'Addario strings
Dunlop Slides
Julian Sas Picks
My name is Julian. I was born on a river in 1970 in a small town in the center of the Netherlands called Beneden-Leeuwen. Since I was born I have been a restless person, This is something that I still have today. Only until I was 6 years old I knew where this was coming from; I saw this movie called the Toronto rock 'n roll festival. There I saw Jerry lee lewis and Chuck Berry. From that day on I knew what I was going to be In my life I wanted to make music. I was hooked as a little child on what I felt when I saw this movie, it was Jerry lees immense energy and maybe more important for my future I saw Chuck's guitar.
My mother saw that I dreamed and talked only about guitars from that day on. So they gave me little toyguitars and stuff like that but I kept dreaming about the real thing. By the time I was 10 I was into bands like Motorhead and AC/DC, Judas priest and Iron Maiden and more heavy stuff. Loud guitars and big Marshall amps and again a lot of energy. They saw me listening to music that most children of my age weren't doing at that time so I started again about a real guitar and when I was about 12 years old I got one an Ibanez les paul copy which I still have today.
With a guitar comes an amplifier so they gave me this 30 watt Yamaha where I could practice with. I started to listen to anything I could lay my hands on, and this is something that I still do today. I have never had no musical schooling so this is for me the only way to learn music. By listening and playing you start to know how things work. A friend of mine taught me some basic chords and a few scales and something about where to put your fingers and that was it. The rest was up to me. By the time I was 13 I heard something that really got me deep emotionally and his name was Muddy Waters. From that day on I decided to dedicate my life to blues and bluesrock.
When I was not in school I played guitar, I kinda locked myself in my room to become what I wanted. The guitar became and still is an obsession for me. I'm a very quiet guy in fact and this instrument really gave me the chance to express my feelings. When I was 17 years old it was 1987 and that was great year for me because I met a girl who is now my wife; someone who knows what drives me in being a musician and understand what music means to me. And it was the first time I saw Rory Gallagher. He shocked my world big time. That was what I was going to be. I started a band and two years later I quit school, because we had a lot of gigs and becoming a history teacher was not my thing.
I must have had a thousand jobs and a lot of jams and bands and duo's but by the time I was 26 I started this band called Julian Sas Band. We got a record deal and the first album was called 'Where will it end!?'. And that my friends is still the story today, when it is up to me we got along time coming, because we really love what we do. For me being a musician is all about freedom and doing what you really love. I am fortunate to be in such a position but then again I worked hard for it and still work hard for it because nothing in life comes easy.
So this is my story. I want to tell you that for me playing music is something I try to do until the day I will lay my guitar down and I will meet the great spirits in the sky. I will always write songs about loneliness and oppression and being free out on the road. Music still comforts my ever restless soul. Which after all these years is still inside of me…
Thank you for making my dream come true……… Julian
I was eleven years old when I started playing on a piano my grandfather bought for me. My mother played violin and also some piano. The first pop/rock albums I listened to, were from my parents. Among all the classical albums my parents had an lp from Ekseption (Rik van der Linden) and the soundtrack from Hair. When I was 12 years old, I saw a movie called 'The Blues Brothers' and since that moment, I was hooked on rythm and blues.
After high school I studied at the Music school of art (in dutch it is called conservatorium) in Rotterdam. There I had a classmate who played in a blues band. I was invited to come and play, so we set up a rehearsal. The rehearsal was nice, but the band insisted that I should play a Hammond organ. I had no idea that playing an organ was really my thing. So the band bought me my first Hammond; the X5 with a 760 Lesley. And after only 30 minutes of playing I fell in love. From that moment I played in a lot of blues-, soul- and rhythm and blues bands. My sound developed into a rock sound of the Hammond organ. As John Lord said: "Unleash the beast". So I did, and this gave me the chance to play in a hard rock band for two years. After this experience I went back to my roots music again that I really wanted to play. I was waiting for the right band and opportunity,so for me joining the Julian Sas band is a warm welcome home to the blues-rock. I have the feeling that all my experiences can be combined in the music and musical vision and direction of this band.
My influences
Great bands:
Blues brothers band (STAX /Atlantic), The Doors, SRV, Deep Purple, Led Zeppelin, BB King, The Beatles, Boston, Whitesnake, Maceo Parker, Lynyrd Skynyrd…
Great keyboard players:
John Lord, Ray Charles, Paul Shaffer, Dr John, Stevie Wonder, Booker T (The Stax musicians), Joey Defrancesco…
When I m not playing music I am a teacher in special need education. One day a week I teach piano/keyboard lessons at the music school in Waalwijk. With my wife we have a combined family with 6 kids in various combinations. This all makes my live busy and intensive, but there is never a dull moment.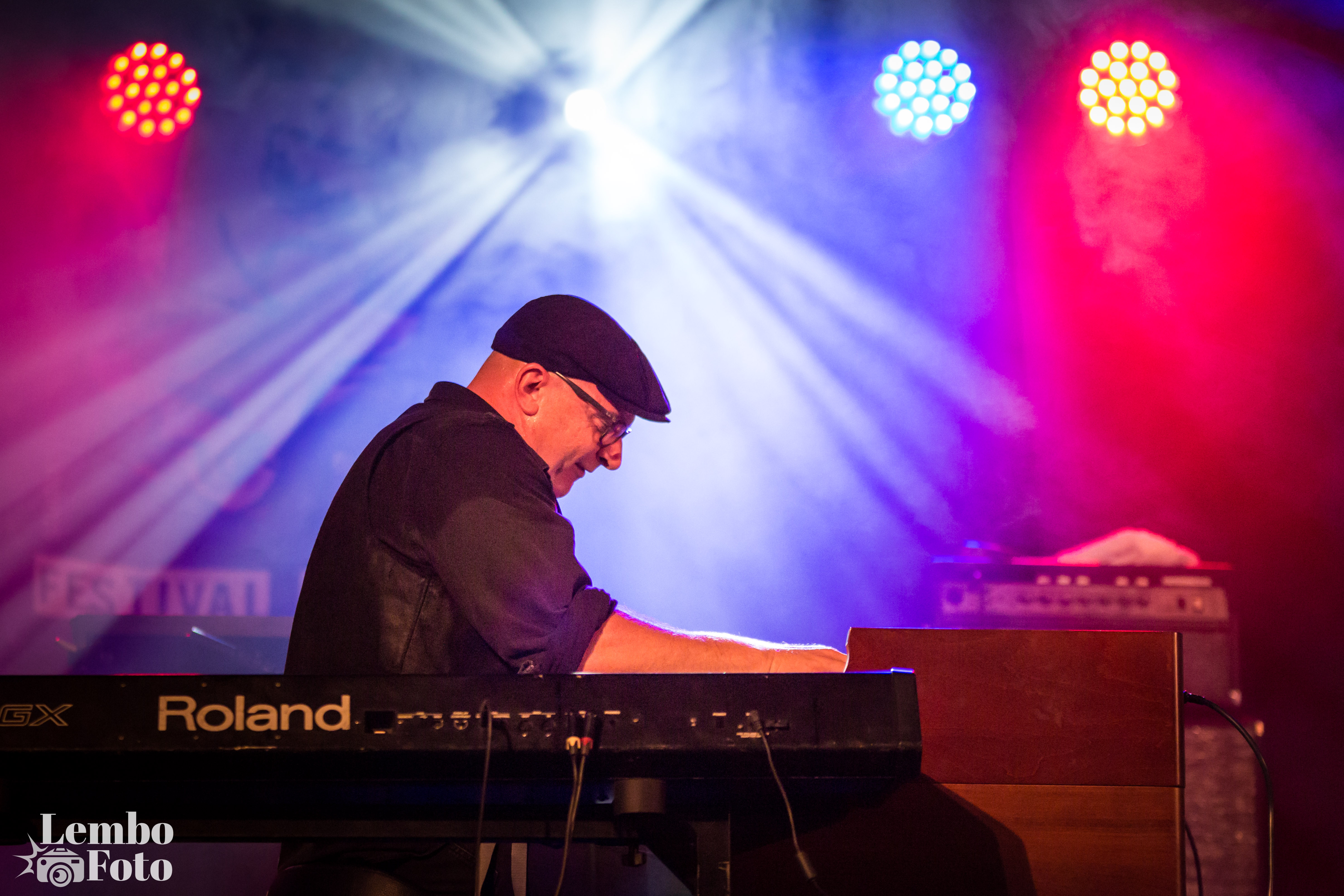 HAMMOND XK-5 with Lesley 147
Roland RD 300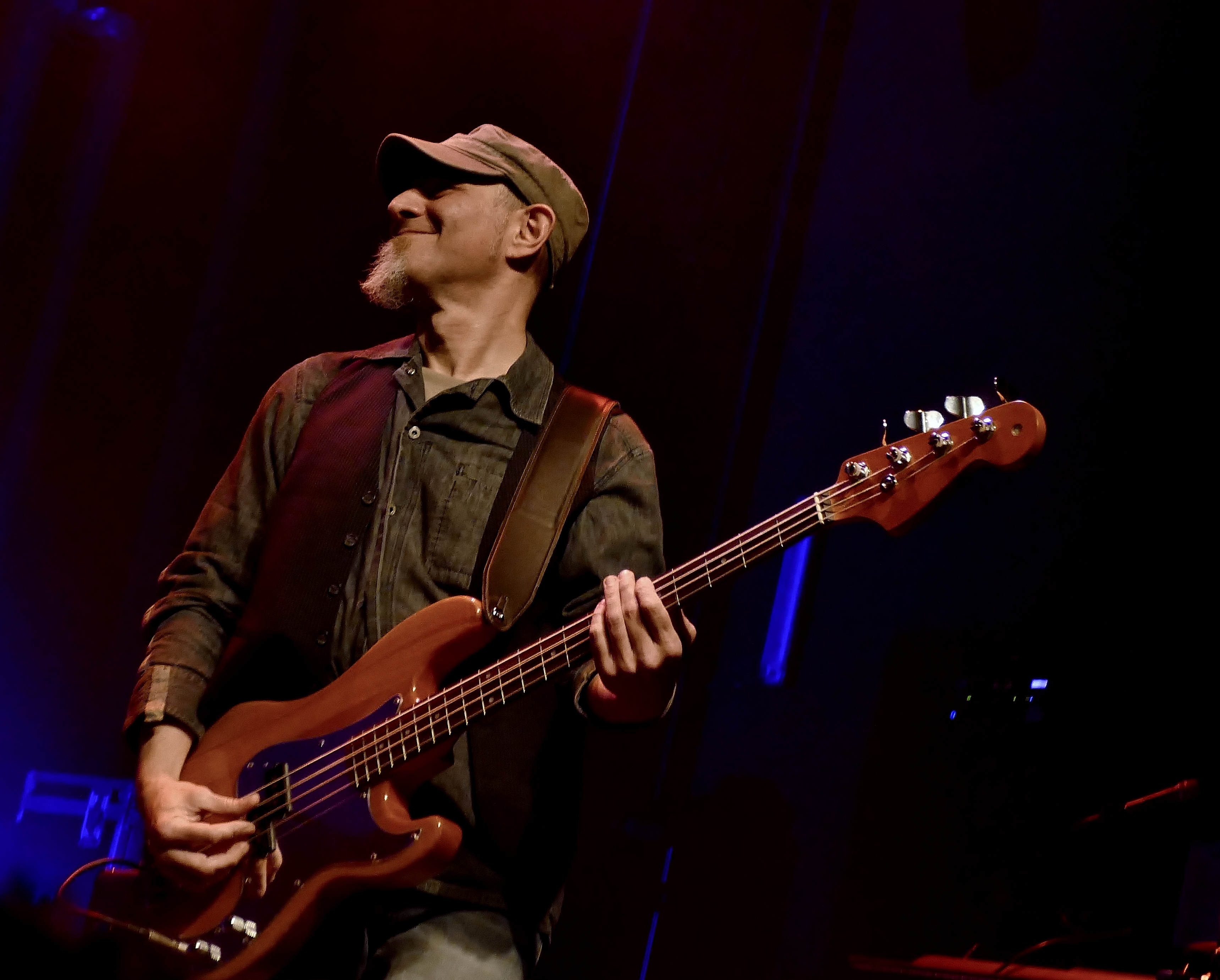 EBS Fafner with MARSHALL 4 x 12-inch cabinet
Warwick streamer '89
EAS Pbass
I was born in Florina 1971 in Greece.
In my early years I grew up in Athens and since
I discovered music it became my passion.
Altough I was interested in many instruments, the main thing for me was playing the bass guitar. I am groove addicted. I practiced till my fingers bled and soon I started playing in some of the most important bands from the Greek rock scene.
After years of immense playing and touring I felt I had to do something different with music so I became a session player. I played with a lot of greek artists/bands, been to a lot of studios and learned how to play many musical styles. This was my job for almost a decade.
In 2002 I met my wife, I moved to Rotterdam, got married and became a Luthier:the art of music instrument repair and customizing.
Now I am the owner/operator of Eas guitars and basses,a small company that is specialized in handmade guitars and basses, custom designs and repairs.
When I came to holland I started playing live again in some blues/rock bands. I love to play live music and give a good vibe to the people.
When I was asked for the Julian Sas band I was proud. This is a band where I feel at home and I share the same love for music as they do.
Born and raised in the Southwest of The Netherlands in 1970, music played an ever increasing role in my life. In my younger years my parents put me in an after-school music education class. And in my teens I started studying the piano for a few years, learning the basics of the instrument and 'making music' in general.
In those years I also started playing drums in the local brassband, which was both a musical as a social thing.
Drums fascinated me from a very young age. Although being a kind of "frustrated guitarist", playing drums seemed natural as I had the tendency to bang on all kind of things and surfaces, driving everyone in my neighbourhood crazy.
I started with just one little Chinese tom with the rawhide skins tacked on the drum.
Later on my parents got me a real snaredrum with a stand and a little cheap cymbal for my birthday. For which I'm forever grateful because my drumming journey started there and then.
Taking no lessons but playing along to songs on the radio, records and music I (very) slowly progressed. And every birthday I got something to expand what would become my first drumset. First a hi-hat, then an old marching bassdrum with a crappy pedal and so on.
Untill they finally gave me a 5-piece drumkit, brand Maya in shiny blue.
Fastforward a couple of years, I began playing in all kinds of (cover)bands ranging from bigband-style to hardrock. Still my drum-education consisted of reading all sorts of music related magazines, visiting a lot of concerts and festivals. Buying a lot cd's for playing along to and, ofcourse, the playing in bands.
My musical influences are very diverse, ranging from classical to jazz, though my heart belongs to old-school R&B, R&R, Blues and (Hard)Rock. The music I love to play!
Drumming influences are however from all musical styles. From Vinnie Colauita to Hal Blaine. And Billy Cobham to Earl Palmer. D.J. Fontana, Benny Greb but also Dutch guys like Hans Eijkenaar, Pierre van der Linden and Marijn van den Berg, to name just a few. All of them such musical and adventurous players who showed me "the way".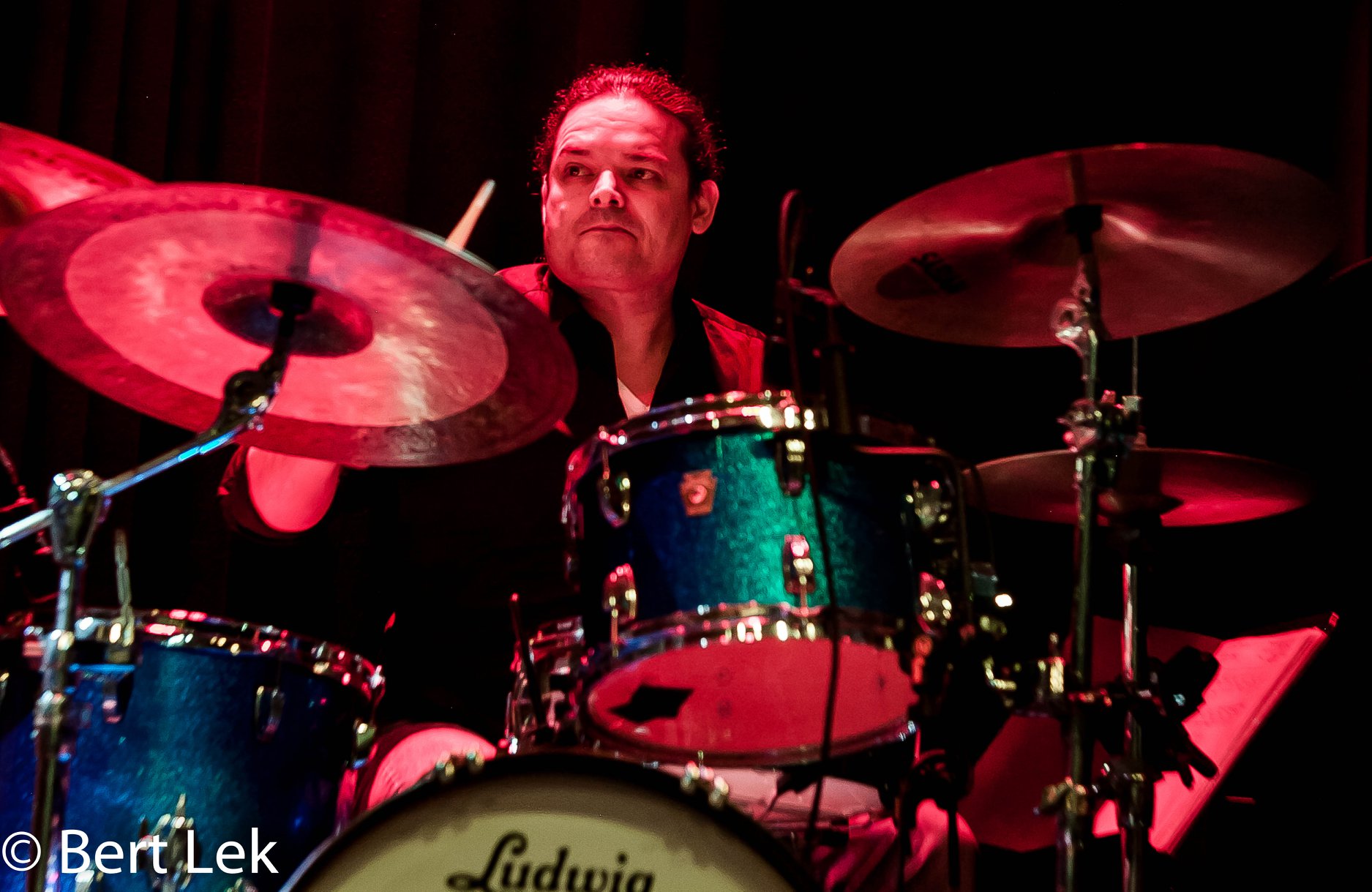 Equipment
Drums:
Ludwig Classic Maple drumin Blue Sparkle:
9" x 12" Tom
12" x 14" Floortom
16" x 16" Floortom
18" x 20" Bassdrum
An old beaten-up Ludwig supraphonic 5" x 14" as a main snare
Pearl Chad Smith Signature snare 5" x 14" as backup
Pearl Eliminator strap-drive double pedal
All Tama hardware including a Iron Cobra Lever Glide Hi-Hat stand
Cymbals:
Meinl Byzance 14"Sand hats
Sabian Legacy 18" crash
Sabian Evolution 18" O-zone crash
Sabian Legacy 19" crash
Sabian Legacy 20" O-zone ride
Meinl Byzance 20" Sand ride
Remo drumheads and Vic Firth sticks.
The Band